Caprauna, in the province of Cuneo, is a municipality, a micro-community better said, of around ninety residents (86 at the last census); together with Alto, it is one of the two municipalities that from an administrative point of view belong to the Province of Cuneo, but in geography they are in fact Ligurian. From here you can also admire the Ligurian Sea and the coasts of Albenga.
The largest mosaic in Europe was inaugurated here on Saturday 14 October.
Created in fourteen months of work by artists Sergio Giusto and Lorenzo Rossi, with the help of a team of collaborators and friends, it is a work 27 meters long and three meters high, created using more than 40 thousand tiles of thirty-one different colours.
A monumental work, already well known throughout Liguria and Lower Piedmont and which has become a destination for art enthusiasts and tourists who have been coming here for some time to see the work in progress.
A beautiful story of a community that decided to make the unsightly concrete wall, built next to the square, more beautiful to contain the landslides of the earth and the road, turning it into a work of art.
The mosaic is dedicated to the traditional activities of the area: it depicts from the basket maker to the woodcutter, from the fisherman to the farmer. Then there are fauna, flora, typical products and scenes of life.
Silvia Arnaud, art historian and expert in cultural heritage, owner and deus ex machina of the Villa della Pergola Gardens, was the godmother of the official inauguration.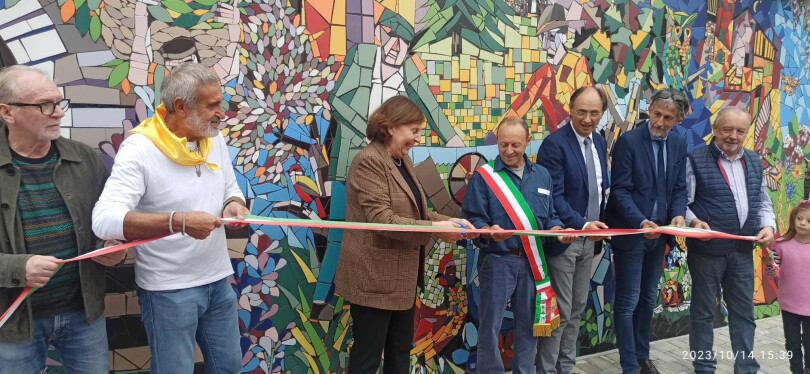 "This is an important work. The most beautiful thing, of great interest, is that through the mosaic, which is a work of art, the story of the community is told, of a peasant and mountain civilization, told with love and passion through the people who lived and live there, with the depiction of arts and crafts, fauna and flora, and through the landscape.
You must look at it with great attention, down to the smallest details: there is the bee that takes pollen, there is the hedgehog, there are numerous elements. It is a work to be looked at in its complexity. A work that is a legacy for the future, testimony to the material culture that is so important for our mountains, for our countries.
The added value? It is a mosaic made with tiles, created by the many people who worked on it and who assisted the authors and artists, and I am honored to have one of my own. Fundamental to its success was the friendship, brotherhood, understanding and collaboration between many people who conceived, implemented and completed the work".
Designed by Giusto, Rossi and the Municipality of Caprauna, it was realized with the support and collaboration of the Pro Loco of Caprauna, Mapei, Ceramiche Sassuolmare, Impresa Luca Michelis, Locanda e Formaggeria Rolando Marco and the Ingauna cultural and fun association "Fieui of Caruggi".